Signs You Have COVID, Says Dr. Sanjay Gupta — Eat This Not That
CNN's resident brain surgeon Dr. Sanjay Gupta is warning about the BA.2 Omicron subvariant, and how fast it is spreading. "According to the latest figures from the CDC, [BA.2] now makes up about 11.6% of Covid cases in the US; the week before, 6.6%. BA.2 is the dominant variant in Denmark, the United Kingdom, India, South Africa and more than a dozen other countries. According to the World Health Organization, studies estimate it is 30% more contagious than the original Omicron (BA.1)." Here are five signs you have COVID-19, according to Dr. Gupta. Read on—and to ensure your health and the health of others, don't miss these Sure Signs You've Already Had COVID.
Many people are experiencing neurological issues after being infected with COVID-19. "Regardless of how exactly the virus harms the body, we now know that the impact of COVID-19 on the nervous system can be more significant and lasting than the transient loss of taste and smell that many of the first infected patients described," says Dr. Gupta. "It can have devastating short- and long-term neurological complications — from delirium, depression and "temporary brain dysfunction" to headaches, brain inflammation, brain bleeds and clots, nerve damage and life-threatening meningitis in both the young and old."
"Many Americans are enduring the lingering effects of a past infection, battling health conditions like fatigue, brain fog, shortness of breath, cardiac issues," says Dr. Gupta. "The list of long Covid symptoms is lengthy and varied; there are no answers as to who and why, nor are there easy, one-size-fits-all treatments."6254a4d1642c605c54bf1cab17d50f1e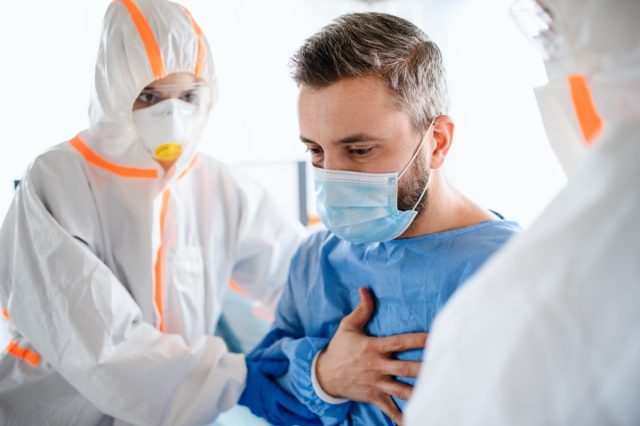 Long-term cardiovascular issues are a particularly worrying symptom of the virus. "We are in the early days of this disease, but I was particularly struck by the recent paper indicating a previous Covid infection being a significant risk factor for future heart problems," says Dr. Gupta.
RELATED: I Have Omicron and This is What it Feels Like
"The chance that you're still infectious drops as time goes on," says Dr. Gupta. "The longer you stay isolated, the less likely you'll expose someone else to the virus. Ten days after testing positive, the percentage of people still contagious is estimated to be about 5%, according to researchers at the UK Health Security Agency. However, at day five, the end of the CDC isolation period, a significant percentage of people (31%) are still contagious. By day seven, the percentage of people still contagious drops by half — to about 16%." Also: "Symptoms may appear 2-14 days after exposure to the virus. People with these symptoms may have COVID-19:
Fever or chills

Cough
Shortness of breath or difficulty breathing
Fatigue
Muscle or body aches
Headache
New loss of taste or smell
Sore throat
Congestion or runny nose
Nausea or vomiting
Diarrhea"
RELATED: COVID Symptoms Usually Appear Like This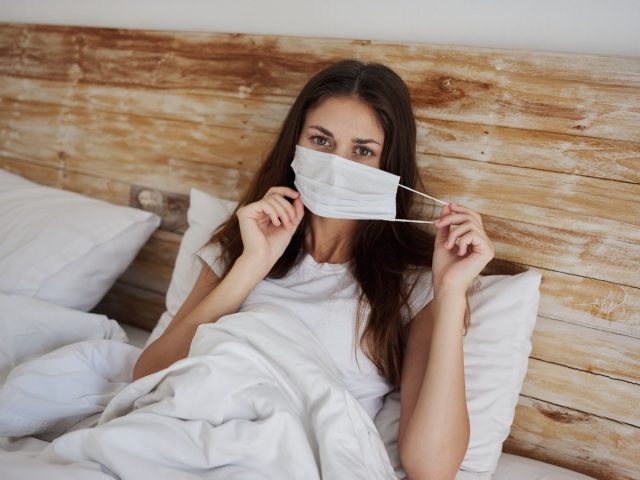 If you have been infected with BA.2 and are coming out of isolation, wear a mask for another five days as an extra precaution. "While the CDC surprisingly still recommends three ply-cloth masks, many experts say they aren't adequate, especially given how easily Omicron spreads: up to three times faster than Delta, according to recent research from Denmark," says Dr. Gupta. "Erin Bromage, an associate professor of biology at the University of Massachusetts Dartmouth, reminds us that this is primarily an airborne virus and not spread so much by droplets, as happens with flu. Citing data from the American Conference of Governmental Industrial Hygienists, Bromage says a cloth face covering has 75% inward and outward leakage. Compare that with an N95 or KN95, which are excellent at filtering not only large droplets but up to 95% of particles in the air." And to protect your life and the lives of others, don't visit any of these 35 Places You're Most Likely to Catch COVID.