Mansfield to step down as head coach of Wasps Netball
Mel Mansfield joined Wasps Netball for their inaugural season in 2016 as assistant coach and was promoted to head coach in 2019; Mansfield has been part of the Vitality Netball Superleague since 2009
Last Updated: 14/04/22 11:10am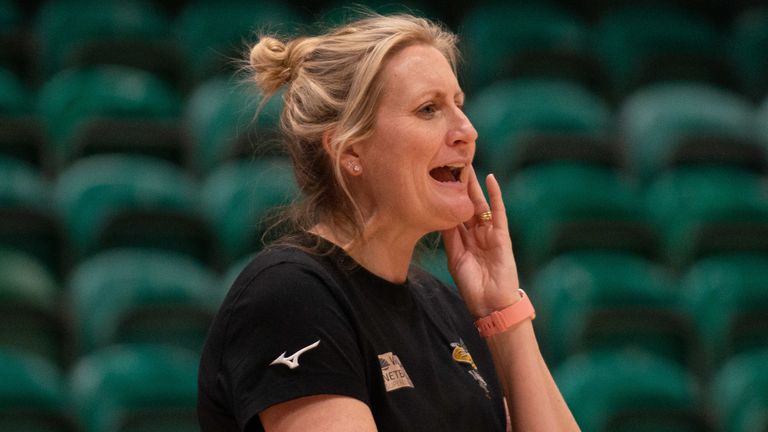 Mel Mansfield will step down as head coach of Wasps Netball at the end of the current Vitality Netball Superleague season.
Mansfield was appointed as assistant coach prior to the franchise's inaugural season in the competition and moved into the role of head coach in 2019.
"It has been a huge honour to have played a part in the history of this great club," Mansfield said after announcing her decision to stand down.
"I have loved every minute of my time here and been very fortunate to have worked with great coaches, support staff and, most of all, with great players.
"It is difficult to leave somewhere that has become home but I will always be very grateful to everyone at the club for their support over the years.
"The Vitality Netball Superleague is a wonderful competition, and I will truly miss the excitement building up to every game, particularly at Coventry Building Society Arena. The atmosphere created by the Wasps supporters is incredible and I'd like to thank them all for their support during my time here.
"Before leaving at the end of the season, I will continue to work closely with the senior management team, support the recruitment of a new head coach and help to ensure an easy transition into next season."
Sarah Taylor, Wasps Netball's franchise manager, will lead the search for a new head coach and hailed Mansfield's commitment and professionalism.
"I am hugely appreciative of her unstinting hard work, commitment and loyalty to the Club, and, above all, for the friendship we have forged, Taylor said about Mansfield.
"In our short history, Mel has been instrumental in both of our Superleague titles, as well as taking us to a third Grand Final and Fast5 success. She has coached the University of Hertfordshire to successive BUCS titles, as well as being invited by England to assist in the 2021 Legends Series.
"Mel's list of coaching achievements and accolades is hugely well-deserved. Her dedication to the wellbeing and development of players and staff throughout the club has always been of the highest importance, and the genuine care she has for those around her cannot be underestimated.
"Mel has been part of the Superleague since 2009 and after 13 years of extensive travel, combined with her job as a senior lecturer and all the regular day-to-day demands of family life, I fully respect her decision that it is time for a break."
Vitality Netball Superleague – Spring Showdown
| | Saturday | | Sunday |
| --- | --- | --- | --- |
| 1pm | Lightning vs Storm | 12pm | Bath vs Rhinos |
| 2.45pm | Rhinos vs Dragons | 1.45pm | Dragons vs Lightning |
| 4.30pm | Thunder vs Sirens | 3.30pm | Storm vs Thunder |
| 6.15pm | Wasps vs Pulse | 5.15pm | Pulse vs Mavericks |
| 8pm | Mavs vs Stars | 7pm | Stars vs Wasps |
Wasps' season continues with two games during the 10-match 'Spring Showdown' weekend in Birmingham. Every contest will be live on Sky Sports over the course of the weekend.
Mansfield's team are taking on London Pulse on Saturday at 6.15pm before meeting Severn Stars in the final match of the weekend on Sunday at 7pm.
The outfit currently sit in ninth position in the Superleague table, having won just three wins of their 11 matches. Wasps went into the season having had a high level of turnover in their squad and looking ahead to "a new performance cycle".