Stuck throttle blamed for scary Bathurst crash
The Dunlop series' second practice session was barely 10 minutes old when it was bought to a halt for a nasty crash at Griffins Bent.
Brendan Strong was on an early push lap when he appeared to push too hard into the second turn, locking up and ending up in the tyre wall.
Commentators suggested the crash may have been the result of a car failure.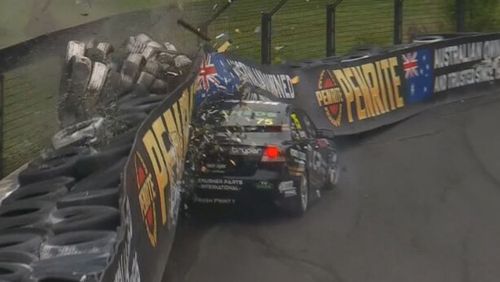 "That's really late, really fast and huge contact into the tyre barrier," Andrew Jones – himself a former driver – said in commentary.
"Typically if you get a front brake failure you get a telltale sign in the rear brakes lock up and we didn't see that.
"I can't help but feel like it might have been a stuck throttle on the approach to turn two."
Strong was uninjured, but the session was delayed some 20 minutes.