Panthers pile on more pain to struggling Dogs
The Penrith Panthers have maintained their unbeaten start to season 2022 with a 32-12 thrashing of the Canterbury Bulldogs on Sunday.
The reigning premiers kick-started the match with consecutive tries in the opening 15 minutes, before accounting for the Bulldogs with ease over the remainder of the game.
The Bulldogs, who now sit on one win through five rounds, found a way to cut into an early deficit, but their efforts were short-lived.
After Canterbury reduced the deficit to eight points at the 32nd-minute mark, it took Penrith just five minutes to stretch its lead out to three tries.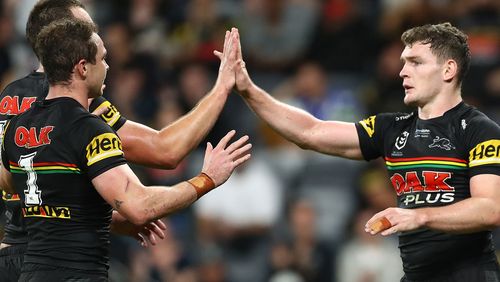 A 72 per cent completion rate, as well as 16 errors, left the Bulldogs with few attacking opportunities.
It was extra tough for fullback Matt Dufty, who struggled under the high ball and finished the match with four errors to his name.
The win keeps the Panthers on top of the NRL ladder.